Stephanie Jenkins, Creative Director/Instructor
Stephanie was born here in Palm Springs, CA. She received her first training in Balanchine technique at CK Dance Company starting at three years old. Stephanie has studied with American Ballet Theatre, with Ballet Austin
for five summers
, at City Ballet, and Ballet Pacifica with instructors such as Charles Maples. Stephanie became a principal dancer for CK Dance at the age of 16, and starred in roles such as the
Nutcracker
's Sugar Plum Fairy and Odile (or the Black Swan) of
Swan Lake
. She has performed for the guests of Disneyland in parades and the passengers of Royal Caribbean Cruise Lines. Stephanie has taken the first place title at Open Call, and she has also competed in Showbiz, Professional Dance Network, Youth America Grand Prix, and numerous other dance competitions. While Stephanie specializes in Ballet, she is also versed in the genres of Jazz, Lyrical, Hip Hop, Modern, and Contemporary Dance.
Stephanie
is an award winning
choreographer at many National competitions, and her students regularly take tops awards.
Karra Forbes -
Visiting
Instructor
Originally from California, Karra started dancing at the age of 4 with a classical ballet company. After relocating to Boise, ID she began training under Marla Hansen, Creative and Artistic Director of Idaho Dance Theater and head of Boise State University Dance Dept. During her time in Boise she began dancing with FUSE Dance Collaboration, a company formed on the principles of love, acceptance, and integrity. Busy at work in the studio, they are preparing for their August 20th showcase in which her contemporary works will be premiered. While working as a dancer and choreographer, she still finds time to teach at local studios in the area with both technical and competitive demands. With a goal of sharing her passion for dance and movement she enjoys traveling the country and teaching master classes to young students hungry to develop their technique and body awareness. She is honored to be teaching a master class at SAJ, while getting to visit her home town roots too!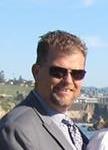 Richard B. Jenkins - Business Manager/Instructor
Richard is our Business and Public Relations manager. He also teaches our Self-Defense classes for women and teens. Richard has 30 years of experience working with kids. 20 of those years are in the sports industry. Richard is also a 10 year veteran of the Palm Springs Police Department's Reserve Officer program. He also currently works in the private security industry doing executive protection among other armed and unarmed details.
Edy is our fitness instructor and one of our self-defense instructors. Edy has a background in law enforcement.